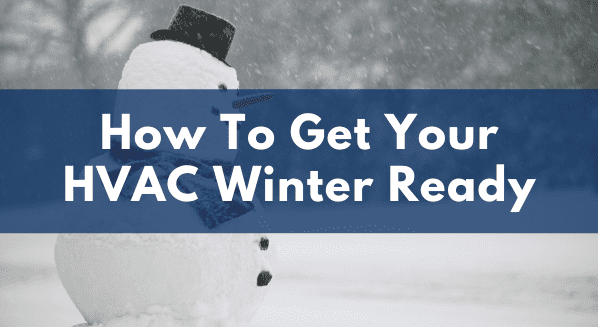 When that first whiff of a brutally cold winter night hits, the most valuable equipment in your home becomes your HVAC (heating, ventilation, and air conditioning) system. The last thing you'd want to find is a faulty heating system that could have been discovered sooner. Taking proper care for your HVAC system can prolong its' life span, increase comfort and lower energy bills when you need it the most.
If you're looking for the best methods on how to prepare your HVAC system this winter, look no further. We've put together some simple tips that will help your system operate at maximum efficiency during the cold season.
Schedule a Maintenance Appointment
While the ideal time to undergo HVAC maintenance is during the milder seasons, like spring and fall, it's never too late to get your maintenance done. Scheduling checkups with your local HVAC company can ensure that your heating system is running in tip-top shape when you and your family depend on it the most. If you've noticed some telltale signs of potential problems, such as unusual odors or noises, the checkup would be the best time to inform your HVAC technician so they can diagnose the situation for you.
Replace the Air Filter
One of the most important things you can do to maintain your HVAC system is to change the air filter every month. Make it a routine to check the filters every month and replace it if you find that it is dirty. At the minimum, air filters should be replaced every three months. Doing so will keep your indoor air quality clean and safe from harmful airborne particles.
Clean the Vents
Make the most out of your monthly routine by cleaning the vents the same day you change the air filter. Use a vacuum or duster to quickly clear any dust, debris, or particle build-up to allow warm air to flow freely throughout your home. Neglecting this quick and simple trick can increase your utility bills and reduce the efficiency of your system. The buildup of dust and debris can also result in ventilation blockages and inefficient airflow.
Sufficiently Insulate the Attic
Keeping your home's attic insulated helps retain warm air inside and prevents it from escaping. When this happens, it lightens the load for your system and maintains the proper temperature to keep your home comfortable. According to EnergyStar, you can measure your attic insulation level to see if it is properly insulated for the winter. We also recommend getting a professional inspection of your attic to check for any diminishing insulation and replace what's needed.
Install a Programmable Thermostat
Using a programmable thermostat is a convenient and cost-effective way of regulating temperature to meet your comfort needs. The days of manually adjusting the temperature or returning to a cold home are over. These thermostats can be programmed to suit your routine so you can reduce energy consumption when no one is home. Having this feature enables you to have total control of the comfort levels in your home.
At Rebel Refrigeration, our team of highly trained experts will help you prepare your heating system this winter. Call or email us today to schedule an appointment and have your HVAC system inspected before it gets too cold.