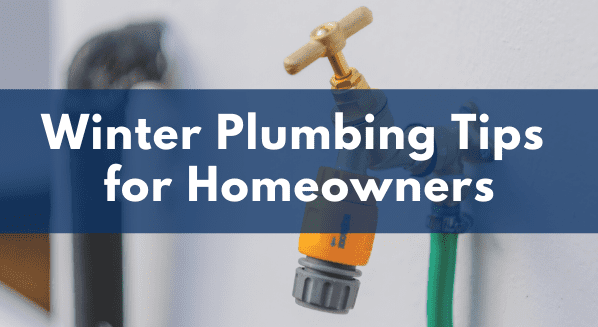 While cold weather is not something homeowners in Las Vegas have to worry about often, the winter months can bring surprising lows. This is especially the case for people who live at higher elevations where cold snaps can cause pipes to suddenly freeze and burst more frequently. Preparing your plumbing system for winter is therefore essential when a burst pipe could cost you up to $15,000 in repairs and replacement costs for damaged belongings! Thankfully, you can avoid this nightmare scenario by implementing five simple plumbing tips for winter.
5 Tips for Protecting Your Plumbing This Winter
Helping your pipes and plumbing system to weather winter is not as difficult or expensive as you might think. In fact, a few simple preparations and behavioral changes can do most of the work for you. Here are 5 key things you should be doing this winter.
1. Disconnect Exterior Hoses
When residual water in your garden hose freezes, it can cause the water in your pipes to do the same. This can result in blockages, leaks, or even a burst pipe. Disconnecting and putting away your exterior hose is a small step that can have big results for your home during the winter.
2. Let the Water Trickle
Keeping the water in your pipes flowing, even if it's just a trickle or drip coming from the faucet, can prevent the water in them from freezing entirely. This will also reduce the build-up of pressure in your pipelines, thereby, reducing the risk of spontaneous bursts or leaks.
3. Insulate
Insulation for your interior pipes can be found for as little as 50 cents per linear foot in stores like Home Depot, and while you might not think it, even light insulation can work wonders. Of course, the more liberally you apply it the less likely freezing or bursting is to occur.
4. Use Heat Tape on Outdoor Pipes
Indoor insulation is not ideal for outdoor pipes. In these cases, you need heat tape, which will not only insulate but slow the freezing process once it begins. Avoid skimping when it comes to heat tape. Always buy the tape recommended by your manufacturer or ask your local plumber for advice.
5. Clean the Sump Pit
A clean sump pit is a key to healthy pipes and it is particularly important in the winter when a dirty pit can cause blockages in the system. A faulty sump pit could also lead to flooding in your home which will only exacerbate the damage caused by burst or frozen pipes!
Scheduling regular maintenance with a plumber (preferably just before or at the start of winter) will also drastically reduce the risk of facing a plumbing emergency if a cold snap rolls around. By making sure that your plumbing system is in good health, and taking steps to mitigate the risks that come with extreme weather, you can ensure that your home gets through this winter safely!
However, if you do experience a burst pipe or flooding within your home make sure that your first call is to a reputable plumbing company, like Rebel Refrigeration. A quick response will minimize damage and long-term costs in the event of an accident or breakdown. For all your plumbing needs this winter, contact us at (702) 766-9436 or email us to schedule an appointment today!