Las Vegas Sewer Line Repair
Clean, Stress-Free Solutions from the Professionals You Trust
We know that plumbing issues aren't the most pleasant things to deal with, especially when they involve sewage. A blocked, leaking, or otherwise malfunctioning sewer line can be messy, inconvenient, and altogether stressful to deal with. Instead of putting yourself through the misery of DIY repairs or delayed solutions, get immediate help from our highly trained technicians at Rebel Refrigeration, AC & Plumbing. We'll deploy our fully stocked vans and expert Las Vegas sewer line repair team to your home ASAP and get you the high-quality, long-lasting help you need!
Contact us online or call (702) 766-9436 now for a same-day service appointment for your sewer line repair in Las Vegas, NV!
Does Homeowners Insurance Cover Sewer Line Repair?
Since the part of the sewer line on your property is technically considered an "other structure" of your home, it's given the same protections as your home proper. Below are details on when sewer line repair would likely be covered by your homeowners insurance policy.
Damage is caused by something outside your control
The damaged part of the pipe is on your premises
How Much Is Your Sewer Line Covered For By Insurance?
Given that you're covered, most policies limit coverage for "other structures" to 10% of what your entire home is insured for. Check out your individual policy to make sure that is the case since it may vary. If so, the 10% would likely be enough to cover the costs of your sewer line repair.
When Is Your Sewer Line Not Covered By Insurance?
Physical damage including faulty construction, poor upkeep, or preventable error.
Sewage backup is specifically mentioned as not being covered in homeowners insurance policies.
What Causes Sewer Line Issues?
Your sewage line is supposed to last a lifetime, so why is it suddenly causing you problems? These disturbances can compromise the integrity of your sewage lines, causing leaks, blockages, and other flaws to form.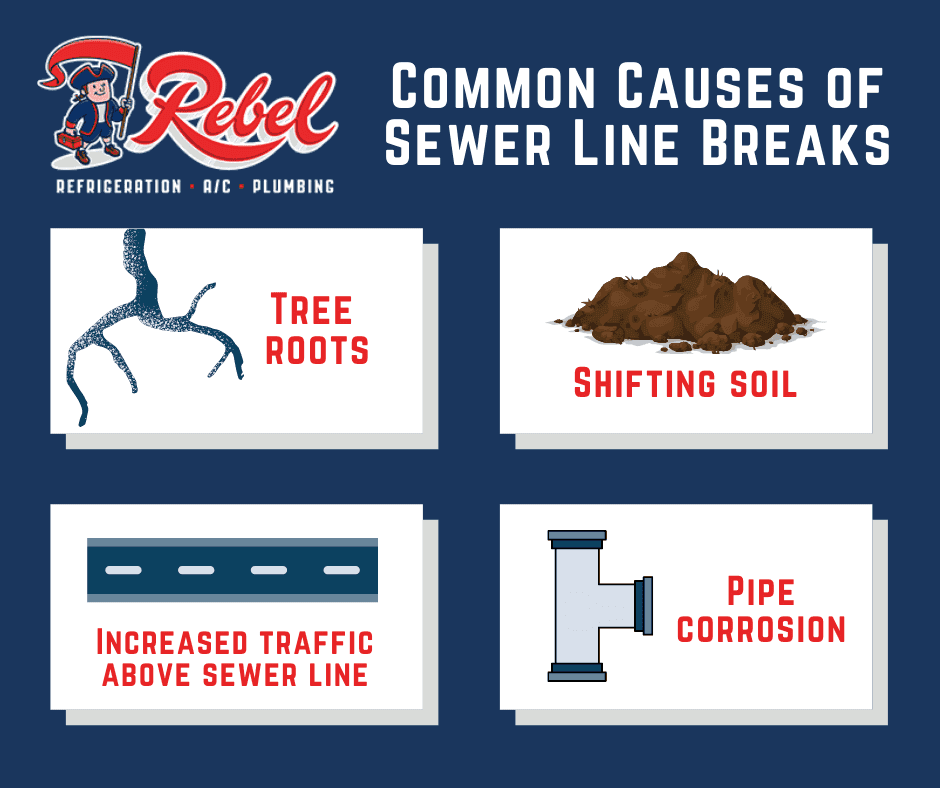 Common Causes of Sewer Line Breaks, Include:
---
Shifting soil
Settling
Increased foot or vehicle traffic above the sewer line
Rusted or corroded pipes
How Can You Tell When Your Sewer Line Needs Repairs?
When your plumbing system starts acting up, it can be hard to pinpoint the root of the problem. However, there are certain signs that you can watch out for that implicate your sewage line as the source of the issue. If any of these issues are plaguing your home, contact our Las Vegas sewer line repair team right away for a detailed sewage inspection and immediate repairs.
Signs Your Sewer Lines Need a Repair:
---
Backups and blockages
Foul odors
Mold
An unusually green lawn
Sinkholes
Foundation cracks
Pools of septic waste in your yard
Rodent and insect problems
If you need emergency sewer line repairs in Las Vegas, our team is available 24 hours a day, 7 days a week! Call (702) 766-9436 today to get your sewage line fixed ASAP!
Our Commitment to Our Customers
The Rebel Experience
Honesty & Integrity

At Rebel, we believe in transparency. Our technicians will provide you with the best solution for your needs.

Trusted for Over 25 Years

Rebel has provided the highest level of service since 1996. Always getting the job done right the first time and with a smile!

Money Back Guarantee

At Rebel, we stand behind our work and you can trust we will make it right to you, no matter what.
"Quality is the name of the game and Rebel delivers!"

Nick Van R.