Each winter it's hard not to crank up the heat and keep the thermostat blasting warm, cozy air, but that electric bill can add up quick! If you're looking for ways to save on your next bill and not waste money while heating your home for the winter, then check out these simple words of advice to keep money in your pockets.
Keep It Sealed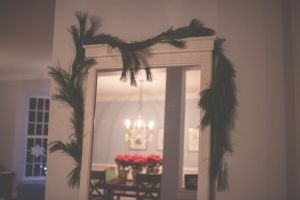 Old windows and doors can be quite costly to replace, and they might not necessarily be in dire need of changing. Before you drop hundreds on changing out your windows and doors, make sure that all of the cracks are sealed properly. This simple sealing method will keep the cold air out and prevent any drafts from coming in the house. It will also keep the warm air from leaking right out your front door, and the more hot air trapped inside the house, the less you will have to turn up the thermostat.
Having The Right Equipment
If your HVAC system is old and outdated, and your energy bills are through the roof each year, then chances are it might be time for a new and improved system. The right energy efficient heating system is truly worth the investment. A new system will provide your home with the advanced equipment to properly heat your home without wasting your money. Older systems are not as efficient, and you might find that it has to work harder to get to the temperature that you desire. A new system will make it easier to reach your desired temperature.
Energy Audit
If you've never heard of an energy audit, then it is something you should become familiar with. Rebel Refrigeration offers energy audits for your home to help minimize a loss in heating and air, and find any problems that could be raising your energy bill in your home. An energy audit is basically like a check up for your home, inspecting insulation, furnaces, ductwork, and a full examination using an infrared camera to detect sources of cold and hot air.
Change Your Thermostat
Your thermostat is your drivers' seat to controlling the temperature in your home, and if yours is old and outdated it could be wasting your money on heating. Older thermostats are often difficult to read, give inaccurate temperatures, and don't offer scheduled settings. New technology, such as the Nest, will allow you more control over the temperatures in your home, and even offer customizable settings for when you're not there controlling the temperature from your office, or even on vacation. Being able to fully understand your energy usage, and adjust settings while away from the house will help you to maintain comfortable temperatures without cranking up the heat.
Reduce Your Use
Some people believe that running your heat while you're not home will help to maintain the temperature and keep your bills low. But in reality, if you're running your HVAC system you are using energy and spending money! If you're going to be out of the home for work, or long extensions of time, it's best not to waste energy and keep your heating system at a lower temperature; approximately a 5 degrees below your heating preference while in the home. A few degrees will make a big difference on your bill, and you'll begin to see the savings!
Before it gets too cold this winter prep your heating system for maximum use! Our professionals at Rebel Refrigeration have the expert knowledge and skills to help you maintain an energy efficient home, while still be cozy and warm this winter. Stop wasting your money on heating, and let Rebel Refrigeration help you save by setting up an appointment today.