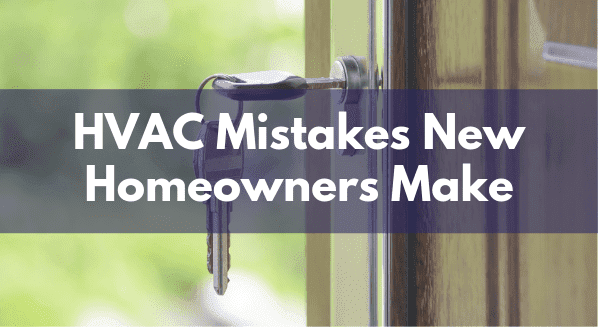 You are excited to move in and settle down in your new home and your HVAC system is probably one of the last things you're thinking about. However, it is not something that should be overlooked. In fact, it should be one of your top priorities. Whether you are moving into an older or newer home, all HVAC systems need proper maintenance and inspection. Here are some of the top HVAC mistakes new homeowners make.
Neglecting Maintenance Service
Regular system maintenance is vital to the longevity and efficiency of any HVAC system. Signs of wear and tear or minor problems can be detected early on before it turns into emergency breakdowns. These breakdowns can cost significantly more than a maintenance service. The best time to schedule a maintenance service is in the spring or fall before the temperatures get too hot or too cold.
A preventative maintenance plan can be put in place that fits your specific needs. Our team of experts will inspect your units and take care of maintenance tasks to ensure that your system is running in optimal condition. To learn more about our maintenance plans, get in touch with us today!
Picking the Wrong Sized HVAC Unit
An HVAC system should meet the specific energy needs for your home. One of the top HVAC mistakes is selecting an improperly sized unit. A unit that is too big or small will not perform at its best when you need it the most. It can leave you will a higher energy bill and your home feeling uncomfortable. The size and layout of your home must be taken into consideration to identify the energy requirements of your HVAC system. A professional evaluation from a reliable HVAC company can help you find the right system.
Not Changing Air Filters
A simple and effective way to keep your HVAC system in tip-top shape is to routinely replace the air filters. Air filters play an important role in keeping your indoor air quality clean and the system running efficiently. When dirt and debris begin to form in the air filters, it can create hindrances to the airflow and cause the HVAC system to work harder. This causes major stress on your unit to heat or cool your home which may increase your energy bills and even cause the system to breakdown sooner. We recommend replacing your HVAC air filters every one to three months for best results.
Blocking or Closing Vents
It is typical for new homeowners to close vents in areas of the house in an effort to save on energy costs. However, this will actually cause the HVAC system to work harder because it has to maintain comfort levels throughout the entire home. We recommend that you avoid blocking vents with household items such as curtains, furniture, appliances, houseplants, and other large objects. It is important to give your HVAC system the space it needs to run smoothly.
Find a Reputable HVAC Company
When you're new to the neighborhood, it's important that you look for a reputable HVAC company that is reliable, trustworthy and has serviced the area for several years. Never wait until you run into an emergency to find a company that you can count on. Rebel Refrigeration is your trusted neighborhood HVAC company. We provide emergency services and specialize in all HVAC, refrigeration, and plumbing systems. Contact us at (702) 766-9436 or send us an email to schedule a maintenance service and inspection today!