Winter is on its way and so is the chilly weather! Before you crank up your heater this holiday season, you might want to consider these simple tasks to heat up your home while reducing your energy bill.
Direct The Heat
When you have your heat on full blast to warm up the house, you'll want to get the most of it. To make sure you're not letting any of it go to waste, take some time to close off the air vents in unused rooms, such as the guest room, or home office. The more heat that you can direct to the rooms that you use the most, the less you will have to turn up the temperature to make it warmer.
Bundle Up
This may seem simple, but wearing warm clothes while in your house is a great way to reduce your energy bill. Winter only comes once a year, so why not wear your favorite sweaters and cozy socks? Make sure to have plenty of throw blankets in your living room too!
Natural Sunlight
A natural way to keep your house heated during the holidays is to allow the natural sunlight to filter in during the daytime. Pull back those blinds and curtains, and let the natural light warm up your rooms. In the evening before the sun sets, close up the blinds and curtains again to keep the heat trapped from earlier in the day.
Space Heater
Space heaters are an easy alternative to using your main house heater all the time. This is especially helpful for those who have larger homes, but don't always occupy all the rooms. Warm up the room you spend the most time in without having to turn on the heat, or plug it in at night when it's time to go to bed so you can wake up warm and cozy. Some space heaters are specifically designed for low energy costs, so make sure to do your research on which ones would work best for your usage.
Fireplace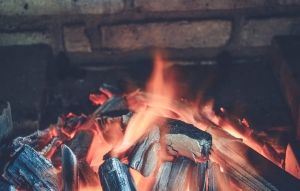 If your home has a fireplace, then put it to use this winter! Natural wood fireplaces are best since you won't be using any gas or electricity to power it, and you'll spend less money your utilities. Before using your fireplace have someone come out and service it. A good cleaning will help to ensure it's safe to use, and will provide sufficient heat.

However you choose to heat your home this holiday season, just make sure to stay safe! Remember not to leave space heaters or fireplaces unattended, and to turn them off when you are not home.